PORTUGAL
---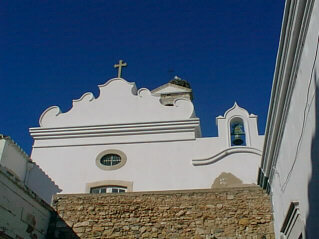 Faro, a town lying on the Atlantic coast in southern Portugal, is apparently a very popular beach destination in the summer. Not much happening there during the winter, though. We stayed at a pensao residencial called the Residencial Adelaide -- basically a home/dormitory type place run by (of course) Adelaide -- a very sweet woman/artist/poet. Basically a big multi-level old house, we had our own room and bath upstairs (it reminded me of the house where I grew up), with access to the living/diningroom and kitchen. It had lots of light, wood floors, and was decorated with Adelaide's paintings (sunflowers and kids-at-the-beach scenes). The house itself was painted bright white, and you could go upstairs to the roof and behold the city, hang up your laundry and catch some sun, or watch the man the next roof over train his pigeons.

Language was more of a problem here than I thought -- many of the words look like Spanish when they are printed, but communication by voice was quite another thing. We stumbled through, but I have to admit it was a challenge. In one restaurant we couldn't figure out what most of the items on the menu were, so the owner drew pictures for us on the tablecloth. I don't think I ordered the one that looked like a wild boar.

We stayed for about a week through Christmas, and ended up having the whole pensao to ourselves (well, plus the little old man who lived in a room up near the roof and puttered through once in a while). On Christmas Adelaide gave us a tray full of peanuts and candy, a bag full of oranges she picked from a tree at her house, and the lone papaya growing near the top of a tree at the pensao (as long as Randy was willing to climb up and pick it). It was a delightful way to spend Christmas.